Hotel Gran Hotel Elba Estepona
★★★★★ GL
Luxury holidays in Costa del Sol, beachfront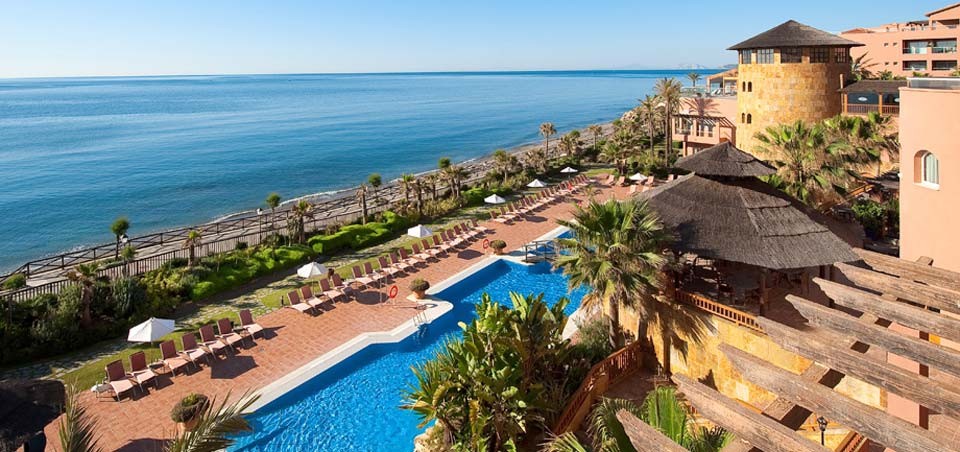 Description Hotel Gran Hotel Elba Estepona
Located in Estepona, near Marbella, between exclusive and famous Puerto Banus and Sotogrande. The Gran Hotel Elba Estepona, part of the hotel chain Elba Hotels. Five-star and in the category of Gran Luxe (GL), this hotel in Estepona will satisfy the most demanding customers thanks to the dedicated attention of the service, to the care of small details that will make you forget about any concerns and begin to experience a totally unforgettable rejuvenating holiday. Located in front of the Mediterranean you can enjoy a semi-private beach with perfect sand and take advantage of the mild climate of the Costa del Sol laying on the loungers provided by the hotel free of charge to all customers.

Thalasso SPA
One of the most popular services of the Hotel Elba Estepona. The Thalasso Spa is a magnificent place, 1500 m2, considered one of the best SPA centers on the Costa del Sol and twice awarded as the 'Most Excellent European Spa' in 2006 and 2007. You can relax and enjoy its 3 seawater pools, two saunas, sensual jacuzzis, Turkish baths, hammam, etc., plus sophisticated therapeutic massages, such as facial and of the body, the best thalassotherapy in the hands of a great team of professionals. The hotel also features an outdoor pool for adults, another one is specially for children and one indoor pool.

Restaurants
But the Hotel Elba Estepona is remarkable not only for its Thalasso Spa, also three themed restaurants are the perfect complement to end the day with flavors from all around the world, in the restaurants you can taste delicacies from Asia, Paris, Rome and, of course, Andalusia. There has also been another more casual restaurant near the hotel´s pool and overlooking the gardens and the Mediterranean Sea.

Rooms
Both the rooms and the suites have a nice decor mixing modernity with classicism, from where you can enjoy magnificent views off the always sunny Mediterranean from the comfy bed. All the rooms have safes and free Wi-Fi, they are very spacious and feature all the comforts of a 5 star luxury Hotel.

Activities
If you're visiting Andalusia, the hotel also organizes various cultural activities to enjoy even more of the Andalusian atmosphere. Tours, visits, personal shopper, boating, fishing, water sports, golf academy, horse riding, bullfights in Marbella, flamenco lessons, wine and cheese degustations, and much more!.

We will be waiting for you!
SPA Hotel Gran Hotel Elba Estepona
SPA

A nearly 1,500 m2 spa offers relaxation and wellbeing, where you can forget daily stress and just go with the SPA Hotel Elba Estepona.

The hydrotherapy circuit with saunas, Turkish baths, jacuzzi, hammam, contrast showers, ice room, salt water pools with water beds and counter-beds, hot stones, Japanese garden and Eco-bar. Rejuvenate your body and mind with the Spa circuit and take an advantage of its regenerative properties. At the end of the route you will have free herbal teas to keep the proper body hydration. Also offer hats, towels, bathrobes and slippers for free at the entrance to SPA.

Price of the circuit
Monday to Thursday: 24 € per person, 40 € for 2 people
From Friday to Sunday: 30 € per person, 50 € for 2 people

Time and duration of the circuit
Open hours are from 10 a.m. to 8 p.m., and the circuit has a duration of 2 hours.

Conditions for children
The SPA can offer many benefits for adults but not recommended for children or babies, so the children under 6 years cannot enter to the spa area, and children of 7 - 12 years old can access only from 10 a.m. to 12 p.m. in the morning, always accompanied by an adult.

For children, there is an outdoor pool especially designed for them, with animations and entertainment. During the winter months they can also access to the indoor pool.

Thalassotherapy

Thalassotherapy area consists of 12 cabins of the latest technology, baths, jets, massage cabins, cabins for seaweeds wrapping, mud and massage showers. A wide range of treatments for health and beauty is available. Download the pdf file with all treatments.

The working hours of treatments are from 10 a.m. to 8 pm. Is recommended to book hours in advance.

What is Thalassotherapy?
Thalassotherapy is an ancient technique that was born in the Roman baths and in ancient Greece. It is based on the application of marine elements as therapeutic agents (algae, mud, sea water, etc). The water collected directly from the sea is filtered and purified to remove potential pathogens, subtracting a seawater-rich healing properties, ideal for a large number of disease processes and therapeutic applications.

Thalassotherapy is recommended among others to:

- Problems of the respiratory system. Elima asthma and pharyngitis
- Osteoporosis, chronic rheumatism or diseases of the spine
- Prevents the appearance of rheumatic processes and physical disabilities
- Puberty and menopause problems
- Dermatological diseases such as psoriasis
- Post-operative, reduces both in specific areas and general pain
- Eliminate stress, depression, insomnia and fatigue
- Prevents cellulite and sagging
- Reduces aging and improves skin tissue

Rooms Hotel Gran Hotel Elba Estepona
Restaurants Hotel Gran Hotel Elba Estepona
Restaurant Al-Ándalus
Restaurant with Mediterranean cuisine and typical Andalusian dishes. Surrounded by a traditional Spanish atmosphere and wine cellar behind glass, you can enjoy a wide variety of Spanish and international wines. This restaurant serves both indoors and outdoors on a summer terrace with fantastic sea views.
Restaurant Asia Fusión
Sophisticated Asian restaurant serving a creative cuisine mixing the flavors of Japan, China, India and Thailand. With a minimalist environment and surprisingly original decor, you can enjoy delicious Asian dishes in a very exclusive way.
Restaurant París Roma
The restaurant Paris Rome combines tasty Italian dishes with a touch of the finest French cuisine. A feast for the eyes and palate, which can be enjoyed in a very bright and colorful atmosphere.
Restaurant Arena Beach
The Arena Beach is the hotel's casual restaurant. Located next to the pool with a beautiful large terrace overlooking the sea and gardens, where you can cool off and have lunch or dinner in a normal environment.
Piano Bar
With elegant decor, the Hotel Elba Estepona offers a cozy bar where you can taste a cocktail or a snack while enjoying the pleasant music playing by the professional pianist.
Services Hotel Gran Hotel Elba Estepona
The Gran Hotel Elba Estepona offers all the exclusive services of a 5 star hotel, numerous facilities to make your stay more comfortable and a variety of activities to enjoy your holidays in Andalusia in the best possible way.

Services

- 24h Reception
- Room Service 24h
- Free Wi-Fi internet access in all the rooms
- Private safe
- Golf Desk to organize golf events
- Shopping area near the lobby of the Hotel
- Ping-Pong tables on the terrace of the hotel
- Free sunbeds on the beach
- Pool towels on deposit
- Mini Kids Club for children over 4 years with activities and monitors (English, Spanish-speaking). Open daily from 10:00 to 18:00 (from June 25 to August 31). Every Saturday children's show is performed next to the Restaurant Arena Beach, from 7 p.m. to 8 p.m.

Facilities

- Piano Bar
- Bar beside the outdoor swimming pool
- Reading lounge, TV, games
- Cocktail Bar
- Upscale restaurants
- Meeting and Event rooms
- Outdoor swimming pool for adults
- Outdoor pool for children
- Indoor heated pool
- Thalasso SPA

Tours and excursions

- Private cultural tours
- Tours in Granada
- Excursion to the Alhambra in Granada
- Tours in Ronda
- Tours in Seville
- Tours in Marbella (Old Town)
- Tours in Malaga (Old Town)
- Tours in Gibraltar
- Tours in Morocco (Tanger)
- Excursion to the Royal Andalusian School of Equestrian Art in Jerez de la Frontera

Activities

- Personal Shopper for the boutiques of Marbella and Puerto Banus
- Navigation on The Blue Fly Catamaran
- Water sports
- Fishing in the Mediterranean Sea
- Activities on the beach of the hotel
- Academy of Golf
- Archery
- Trekking on the Horse
- Bullfight in Marbella
- Flamenco Lessons
- Wine and cheese degustations
Extra Services
- Transfers by car from / to the airport
- Transfers by helicopter from / to the airport
- Car rental
- Yacht rental
- Tours in Spain
Events Hotel Gran Hotel Elba Estepona
Business Center
The Hotel Elba Estepona has enabled comfortable meeting rooms of various sizes and very versatile. We also have terraces and garden areas that will be adopted according to each specific need such as exhibition areas or celebration.
Gran Salón Edén

Features
- Square Metres: 340 m2
- Dimensions (m): 24,6 x 13,8
- Height (m): 3
Maximum capacity of people
- Banquet: 180
- Cocktail: 300
- Theatre: 300
- Shool: 170
- U-Shaped: 100

Salón Jazmín

Features
- Square Metres: 120 m2
- Dimensions (m): -
- Height (m): 3
Maximum capacity of people
- Banquet: 65
- Cocktail: 105
- Theatre: 125
- Shool: 75
- U-Shaped: 50

Salón Orquídea

Features
- Square Metres: 105 m2
- Dimensions (m): 7,6 x 13,8
- Height (m): 3
Maximum capacity of people
- Banquet: 40
- Cocktail: 100
- Theatre: 100
- Shool: 45
- U-Shaped: 40

Salón Lys

Features
- Square Metres: 130 m2
- Dimensions (m): 7,1 x 13,8
- Height (m): 3
Maximum capacity of people
- Banquet: 40
- Cocktail: 110
- Theatre: 100
- Shool: 45
- U-Shaped: 40

Salón Magnolia

Features
- Square Metres: 105 m2
- Dimensions (m): 7,7 x 13,8
- Height (m): 3
Maximum capacity of people
- Banquet: 40
- Cocktail: 100
- Theatre: 100
- Shool: 45
- U-Shaped: 40

Estrella de Mar

Features
- Square Metres: 73 m2
- Dimensions (m): 7,10 x 10,67
- Height (m): 3
Maximum capacity of people
- Banquet: 40
- Cocktail: 75
- Theatre: 70
- Shool: 35
- U-Shaped: 25
Location Hotel Gran Hotel Elba Estepona
Carretera Estepona - Cádiz Km 153 CP 29680 Urbanizacion Arena Beach
Contact Villa Gran Hotel Elba Estepona - Estepona
ONLINE BOOKING
To request information about this accommodation, please, fill out our booking form below.
You can also call us at (+34) 951 204 417.
+34 951 204 417
English, Русский, Español, Française
Hotels in Estepona
Show all activities
Show all Hotels
Private Transfers