Ferrari 550 Maranello
Probably the best production Ferrari ever made & marking a return to a front-engined layout for flagship sporting Ferraris, the 550 Maranello sparked a revival of more usable Ferrari models.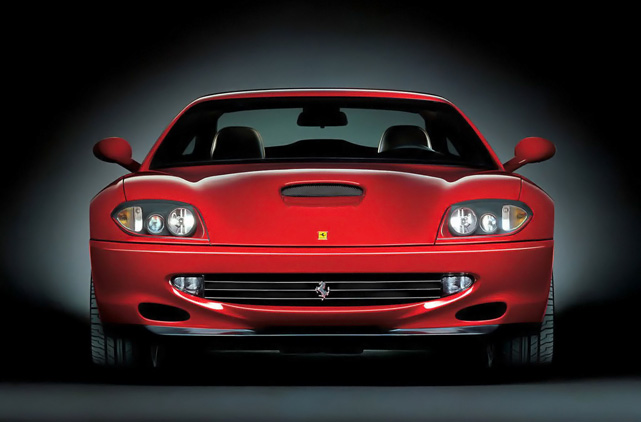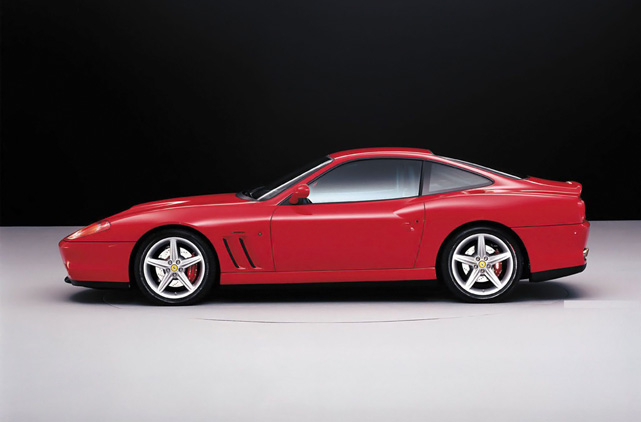 With a layout harking back to the Daytona of the Seventies, the 550 backed up its position by carrying a stick the size of a giant redwood.
Leaving aside the question of depreciation, performance or running costs, the less tangible aspects of Ferrari ownership come to the fore with the 550. Take the interior for starters. There's a refreshing lack of pretension in its execution, a firm understanding of Ferrari heritage and what's necessary and what's mere frippery. No pompous walnut veneer here, no mock-F1 style carbon fibre.
Nor are there modern niceties like steering wheel stereo controls, dimming mirrors or cup holders. Can you imagine the late Enzo Ferrari ever specifying cup holders in one of his cars? The very thought of trying to drink while at the helm of a Ferrari. The great man would turn in his grave. No, a Ferrari cockpit should always be designed for driving - and this one is.
Despite generating 485bhp more than most Ferrari models the V12, engine feels unburstable, Under the bonnet lies the four-camshaft, four-valve per cylinder 65( V12 first used in the 456GT. But here it develops more power; 485 braked horses to be exact. The rest zero to 100km of 4.3 seconds suggests that you have only to brush the throttle for them to make an instant bid for freedom.
Nor will the endless surge of acceleration expire until you reach 200mph. It puts these figures into perspective when you reflect that not long ago, Grand Prix cars had that kind of power - and struggled to last for a two-hour race. In contrast, the 550 has been developed for the long haul; when you clunk the door shut, this much is obvious. This is a car that will withstand hard use; spend a day at a racetrack with an ordinary performance car and sooner or later, it will give up on you.
Ferrari 550 Maranello
Production period : 1996-2001
Number built : 5700
(inclusive of the 550 Barchetta & 575)
Engine
Engine : V-12 65°
Bore (mm) : 88
Stroke (mm) : 75
Stroke volume : 5474
Compression ratio : 10.8:1
Maximum power (HP) : 485
At speed of rotation (rpm) : 7000
Gear : 6 Speed
Performance
Top speed (kph) : 320
0-100 kph : 4.3
---
Prices:
| | | |
| --- | --- | --- |
| | 1 Day | Week |
| Ferrari 550 Maranello | 1500 € | 6000 € |
VAT not included in the price.
The use of all vehicles is limited to a maximum of 200 kilometers per day. Every extra mile is charged at 3 €.
Security Deposit: 3500 € blocked from your credit card (refundable)
RETURN TO TRANSPORTATION
ONLINE BOOKING
To order Luxury Car Rentals, please, fill out our booking form below or call us at (+34) 951 204 417.