Ferrari 430 Spider F1
What man hasn't dreamed of racing around town in a sexy Ferrari? Just imagine hugging every curve of the road from Marbella to Ronda while the speedometer rises and drivers of surrounding vehicles stare with pure envy.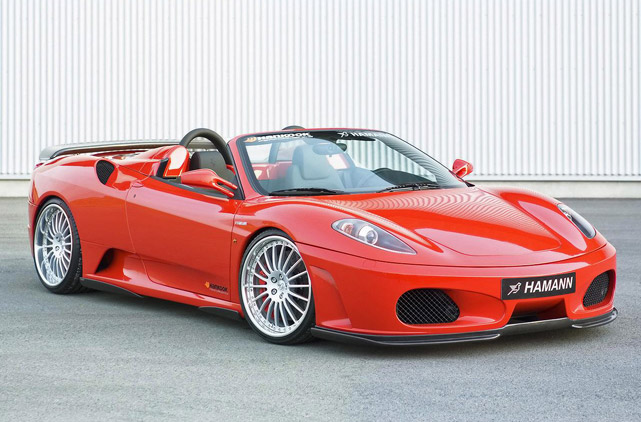 Well, the 2005 Ferrari F430 Spider is certainly a highly acclaimed sports vehicle worthy of the Ferrari name. Most of the features of this amazing vehicle were inspired by the adrenaline rush-inducing Formula 1 cars.
Specs :

Engine: 4.3 L V8
Drive : RWD
BHP: 483
Gears: 6 speed manual / 6 speed 'F1' electrohydraulic shift
Acceleration 0 – 60 mph: 4.1 seconds
Top speed 310 km/h

Engine

The 2005 Ferrari F430 Spider gains its speed and performance thanks to its 490 hp, 4,308cc V-8 engine. This particular engine is very lightweight and compact and can generate 114 hp per litre utilizing a 2.9 kg or 6.4 lbs per horsepower weight-to-power ratio. Forget about the technical specifications – the bottom line is that the engine allows this vehicle to reach amazing speeds of more than 193 mph! Even more impressive is the fact that drivers can actually reach 0-62 mph in a mere 4.1 seconds. Just imagine how much fun you could have taking this vehicle for a spin on Germany's Autobahn…

Again, the majority of the technical innovations used in the 2005 Ferrari F430 Spider are designed with the Formula 1 cars in mind. For example, the vehicle uses a electronic differential or E-diff that was initially designed for the F1 cars of Scuderia's racing division. This feature greatly enhances the traction and road hugging ability of the vehicle under absolutely any road conditions.

Another F1 inspired feature is the rotary switch mounted on the steering wheel. The F1 Scuderia's drivers refer to this as the "manettino." It enables the driver to adjust the set up of the vehicle in a remarkably quick period of time and with minimal effort.

Shape

A significant amount of testing went into the design of this vehicle's particular shape. The sleek lines of the 2005 Ferrari F430 Spider bear similarity to the Formula 1 cars. In fact, Pininfarina created and fine-tuned the lines with the help of a highly advanced computer program that simulates aerodynamics. Normally, this program is used solely by members of the F1 team.
---
Prices:
| | | |
| --- | --- | --- |
| | 1 Day | Week |
| Ferrari 430 Spider F1 | 1725 € | 8000 € |
VAT not included in the price.
The use of all vehicles is limited to a maximum of 200 kilometers per day. Every extra mile is charged at 3 €.
Security Deposit: 3500 € blocked from your credit card (refundable)
RETURN TO TRANSPORTATION
ONLINE BOOKING
To order Luxury Car Rentals, please, fill out our booking form below or call us at (+34) 951 204 417.